Safeguard Continues Operations | April 6, 2020
Ohio's new stay-at-home order goes in effect Monday 4/6/20. This order is similar to Governor Mike DeWine's initial order of 3/23/20 but with the addition of specific instructions on controlling traffic flow at essential businesses that are open to the public.
"The requirement that essential businesses determine and enforce a maximum number of customers allowed in a store at one time. These businesses must ensure that people waiting to enter the stores maintain safe social distancing."
To help our customers who must enforce social distancing rules, Safeguard is offering five new designs of Social Distancing Signs, one of which allows for a custom message to suit unique needs.
New Social Distancing Signs
These vinyl signs convey social distancing rules at your facility. Place on floors, walls, or doors – anywhere people gather as they wait. Bright colors and bold messages are sure to be noticed. Easy installation and removal. Made in USA.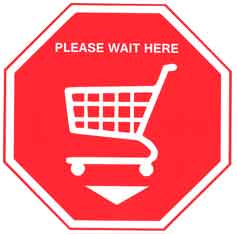 PLEASE WAIT HERE WITH CART
Size: 11" x 11" (280 x 280 mm)
Part # WVPN-RED/WHT-11X11-PWH-C
Price: $99.95 / Package of 5
PLEASE WAIT HERE
Size: 11" x 11" (280 x 280 mm)
Part # WVPN-RED/WHT-11X11-PWH
Price: $99.95 / Package of 5
YOUR MESSAGE HERE (Custom Text)
Size: 11" x 11" (280 x 280 mm)
Part # WVPN-RED/WHT-11X11-YMH
Price: $99.95 / Package of 5
WE PRACTICE SOCIAL DISTANCING
Size: 23" x 23" (584 x 584 mm)
Part # WVPN-RED/WHT-23X23-WPSD
Price: $214.95 / Package of 5
STAND HERE PLEASE WITH FOOTPRINTS
Size: 23" x 23" (584 x 584 mm)
Part # WVPN-RED/WHT-23X23-SHP-S
Price: $214.95 / Package of 5
CALL TO ORDER 800-989-1695​
Safeguard is Open & Operating | March 23, 2020
Safeguard is a critical supplier to various businesses that are deemed essential by authorities: emergency services, healthcare, transportation, food and agriculture, energy, and other industries. Thus, we will remain open to serve your anti-slip safety needs during the COVID-19 response.
Safeguard has been designated a "Critical Infrastructure Supplier" based on the guidance from the U.S. Department of Homeland Security to ensure continued operations of critical infrastructure services and functions.
Additionally, we will be complying with Ohio Governor Mike DeWine's "Stay at Home" Order (reference section 12, part v.). This order goes into effect 11:59 PM Monday March 23, 2020 and is scheduled to end at 11:59 PM Monday April 6, 2020 unless modified. UPDATE: The order has been extended through May 1, 2020.
We will continue to update this information as the situation develops. We will make every effort to fulfill our role as a critical supplier to our nation's essential industries. 
COVID-19 Response, Ready to Help | March 20, 2020
To our customers,
It goes without saying that your business is valuable to us. However, of greater value is your safety and wellbeing and that of your immediate family and your extended work family. Safety has been and will always be our core business. We know that, due to the worldwide pandemic, everyone is more focused on safety – and the shift to personal safety is well warranted.
At Safeguard, we have made some necessary changes to help reduce the spread of the coronavirus. Some ways that we are playing our part include:
·        Following the guidelines of local, state, and federal health agencies to help reduce the spread of COVID-19
·        Eliminating non-essential travel
·        Cancelling or postponing on-site meetings
·        Minimizing large gatherings of employees
·        Securing supply chains for uninterrupted raw material availability
·        Maintaining all essential operations to support our customers' needs
We will continue to monitor the ongoing situation and adjust accordingly. We thank you for your continued business and support as we work through this situation. We will keep you informed of any changes that could impact you and your business. We intend to continue to operate safely and appropriately. We wish you good health and look forward to a return to normal operations in the very near future.
All the best from the Safeguard team.
Best regards,
Bill Kosinski
President
Safeguard Technology, Inc.