Heat-Traction™ Anti-Slip Covers
Skip the shoveling this winter and melt ice and snow with Safeguard Heat-Traction™ heated step and walkway covers.
An electrically powered pad under the anti-slip cover emits heat to prevent snow and ice from building up, regardless of temperature.
Even without the heated option, the covers feature a rugged, non-slip surface that grips footwear and prevents slips and falls. With a variety of grits, colors, logos, and messaging, your safety upgrade works year-round. Our Heat-Traction™ covers:
Enhance safety, reduce liability exposure, and lower operating costs
Are effective, fast-acting, and add long-lasting traction and visibility
Have a five-year warranty (heating elements have a two-year warranty)
Eliminate the need for shoveling and costly snow melting chemicals
Heat-Traction™ covers can stand alone or connect together, up to 13 amps on a single power unit. Plugged into a standard 120V outlet, they generate heat to melt snow at a rate of 2″ (five centimeters) per hour.
Heat-Traction™ covers are better for the environment and your workforce. They allow you to eliminate the risky, back-breaking job of shoveling snow, as well as the need to introduce corrosive chemicals onto your steps, walkways, and the surrounding landscape.
General
Construction
Sizes
Grades
Colors
Safety Messages & Logos
Ordering
Installation
Commercial (3100)
Industrial (3200)
Foil Backed (3700)
Glow-In-The-Dark (3400)
Colors (3300)
General
THIS CONTENT IS DYNAMICALLY ADDED WITH JAVASCRIPT.
If you have Javascript turned off, this page won't load as intended.
Construction
Sizes
Grades
Colors
Safety Messages & Logos
Ordering
Installation
Commercial (3100)
Industrial (3200)
Foil Backed (3700)
Glow-In-The-Dark (3400)
Colors (3300)
⅛" pultruded fiberglass (FRP)
Heat-Traction™ covers are a complementary option that work well in conjunction with Safeguard anti-slip covers. The heating elements add an extra layer of protection when combined with the gritted surface of the anti-slip covers. The heated mats can be used in a standalone fashion or with gritted retrofit covers.
Cover Shape & Base Material
Available Sizes
Step Covers:
60″ x 10″
48″ x 10″
30″ x 10"
Walkway Covers:
60″ x 30″
60″ x 20″
30″ x 30″
30″ x 20″
60″ x 40″
48″ x 30″
36″ x 24″
Three Grit Options
Coarse (Industrial)
Fine (Commercial)
Extra Fine (Residential)
The colors on this web page serve only as a visual guide for initial selection of color. Actual finished product color may vary slightly from the version shown on your monitor based on grit size (coarseness) as well as the base material of construction. To see the actual color, please request a product sample.
Warning messages, text, and logo graphics can be embedded into Safeguard® Step Covers to last for the life of the product. We can even match your color.
Combined with a Photoluminescent "Glow-in-the-Dark" background, the message is visible after dark and during power outages to provide safe egress/ingress during emergency evacuations.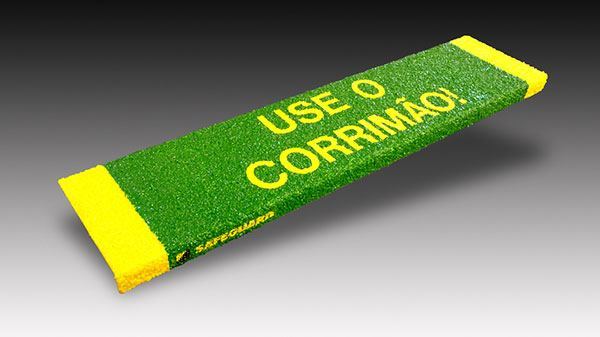 How to Place an Order
Measure steps and walkways to be covered. We recommend leaving a small uncovered space at the edges in case of irregularities. If connecting multiple units, limit to 13 amps per power unit.
To place an order, please call 1-800-989-1695 or check availability in our online store. Contact us to request a quote, consultation, or sample.
How to Install
Follow instructions for step cover installation and walkway cover installation using mechanical fasteners. Insert the heating element between the solid substrate (concrete, wood, etc.) and the Hi-Traction® cover.
Placement of grommet holes on heaters can vary. Align these holes with each cover as holes are drilled. Pre-drilled holes will be aligned with the grommet holes in the heater; match each cover to its corresponding heater.
Align grommet holes on heater with holes on cover.
Download Product Brochure