Since 1992, Safeguard has been custom manufacturing anti-slip covers in the USA to meet our customers' specifications. With experience in a variety of industries and installations all over the world, we have developed an extensive body of knowledge that benefits our customers.
Maximize Your Anti-Slip Investment: We can help you get more out of your anti-slip investment. For example, the right colors can add an extra degree of safety or simply enhance your décor. Our six grit sizes deliver just the right amount of traction for your application. Embedded safety messages and logos can fortify your safety program and reinforce your brand.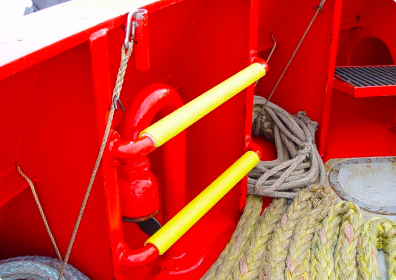 Beware of Imitators: Over the years, inferior products have appeared on the market that may seem to be the same but are actually more costly in the long run. When buying foreign-made material, you will most likely have to modify it to meet your needs by cutting it to size and drilling installation holes, which is quite difficult to do. If you want the manufacturer to alter it for your needs, you will find it to be very expensive. Safeguard's anti-slip covers are made to size, with predrilled holes exactly where needed, and the right fasteners for easy installation. OEM customers don't have to change their parts to fit our product; we adapt to fit theirs.
There is Only One Hi-Traction® Solution: At Safeguard, our focus is 100% on providing excellent anti-slip solutions. We take pride in doing this one thing extremely well. We are not simply a warehouse with one-size-fits-all products, but an experienced innovator that has the customer's best interests at the heart of everything we do. 
Safeguard is Here to Help: Please contact us with any questions. We can help you make a better buying decision, have a pain-free experience, and get the perfect solution to fix your risky slip-and-fall areas.
VP of Safety, major U.S. power generating company
The biggest advantage of utilizing Safeguard Hi-Traction Ladder Rung Covers is that they are permanent. Once installed, no one will have to scrape and replace worn off material. This is the best solution for all conditions, interior and exterior. Thanks to Safeguard – they're saving us a lot of work.
Health & Safety Specialist, Battery Component Manufacturing
The customization has been very beneficial. It has helped us ensure that our walking and working surfaces of different shapes and sizes are fitted with properly sized covers and mats so a wider range of anti-slip protection is available for our employees.
Working with this wonderful product has made life better and so much more safe for day to day walking on a vessel and to know you will not slip on a wet surface again!
…the delivery from Safeguard also arrived this afternoon. Packaged very nicely and well-marked as to the line # which we can then correlate to a location.
They like the stair treads very much and it looks like they will do their entire fleet. Good job. Thanks for all your help in getting us there.