Hi-Traction® Anti-Slip
Step Covers
Safeguard your Productivity and Profitability
Prevent costly slips and falls, especially on the leading edge of the stair, where most slips occur. Even in adverse conditions, such as when wet, icy, or dirty, SAFEGUARD® Hi-Traction® and HiGlo-Traction® Anti-Slip Step Covers provide excellent footing, far exceeding OSHA standards.
Combine the right base material, grit, size, and colors to cover your steps and stairs
Wrap the leading edge and cover the proper depth for your foot traffic to eliminate slip and trip hazards
Fabricated to your specifications using a durable, non-load-bearing base of FRP fiberglass, galvanized or stainless steel
Our Super Coarse Xtreme™ Grit Step Covers provide traction even on oil rigs which can be wet, oily, and extremely hazardous. For added safety, make them glow-in-the-dark with HiGlo Traction.
Base Materials
1/8 in Pultruded Fiberglass (FRP)
Lightweight, Impact Resistant, Cost-Effective
Galvanized Steel – 18 gauge (1.2 mm) G90
Corrosion Resistant
Stainless Steel – 18 gauge (1.2 mm) #316
Sanitary
Heavy Duty Aluminum, 60/61 T Marine Grade
Thick, Rigid, Durable
Direct Gritting
Send us your OEM parts or your engineered drawings for fabrication, then gritting

Cover Shape & Base Material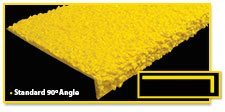 Standard 90° Angle
FRP, Galvanized Steel, Stainless Steel
Bull Nose
FRP Only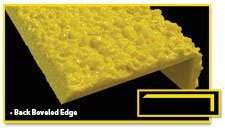 Back Beveled Edge
FRP Only
Raised Round Nosing
FRP Only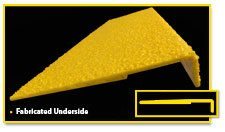 Custom Fabricated Underside
FRP, Galvanized Steel, Stainless Steel
Hi-Traction® and HiGlo-Traction® Step Covers are designed to wrap over the leading edge with a standard 1in vertical lip (C), thereby covering the radius where most slips occur.
It is not necessary to cover the entire step. When measuring the length of your step (A), leave some empty space on either side of the step cover to allow for seasonal expansion and contraction and for any irregularities that may exist from step to step.
Maximum Capabilities
Standard 90° FRP Covers
Up to 10′ length and 15 in deep
Standard 1in lip (1.5 in and 2 in available)
Bull Nose Covers
Up to 10′ length & 9 in deep
1in lip
Steel and Aluminum Covers
Call for maximum capabilities
Cover Steps to the Proper Depth
The depth of the Step Cover for your stairway depends on your foot traffic:
What type of footwear is worn in the area?
What substrate do you intend to cover?
What is the condition of the existing stairs?
How many steps are in the stairwell?
Six Grit Options
Super Coarse (Xtreme™)
Extra Coarse (Offshore)
Coarse (Industrial)
Fine (Commercial)
Extra Fine (Residential)
Super Fine (Barefoot)
Average Thickness of Finished Product
Base Material
Super Coarse
Extra Coarse
Coarse
Fine
Extra Fine
Super Fine
1/8 in Pultruded Fiberglass (FRP)
0.38 in
9.7 mm
0.26 in
6.6 mm
0.19 in
4.8 mm
0.18 in
4.6 mm
0.17 in
4.3 mm
0.16 in
4.1 mm
Galvanized or Stainless Steel, 18 gauge
0.30 in
7.6 mm
0.18 in
4.6 mm
0.11 in
2.8 mm
0.10 in
2.5 mm
0.09 in
2.2 mm
0.08 in
2.0 mm
Heavy Duty Aluminum, 60/61 T Marine Grade
0.54 in
13.6 mm
0.42 in
10.6 mm
0.35 in
8.8 mm
0.34 in
8.5 mm
0.33 in
8.3 mm
0.32 in
8.0 mm
SAFEGUARD® Color Options
The colors on this web page serve only as a visual guide for initial selection of color. Actual finished product color may vary slightly from the version shown on your monitor based on grit size (coarseness) as well as the base material of construction. To see the actual color, please request a product sample.
Our step covers are custom-made in the USA to meet your application requirements. Contact us with any questions. Or, use the buttons below to request a sample or more information about our products.
Choose:
Do you have a unique part that won't work with our pre-fabricated step covers?
Try direct gritting.
We can direct grit to your materials or custom make parts from diagrams.
Learn more about direct gritting
Ready to Install on Any Surface
Our step covers are easy to install on any surface: steel and composite grating, steel and aluminum plate, concrete, wood, and more.
Step Cover Installation with Mechanical Fasteners
Step Cover Installation over Grating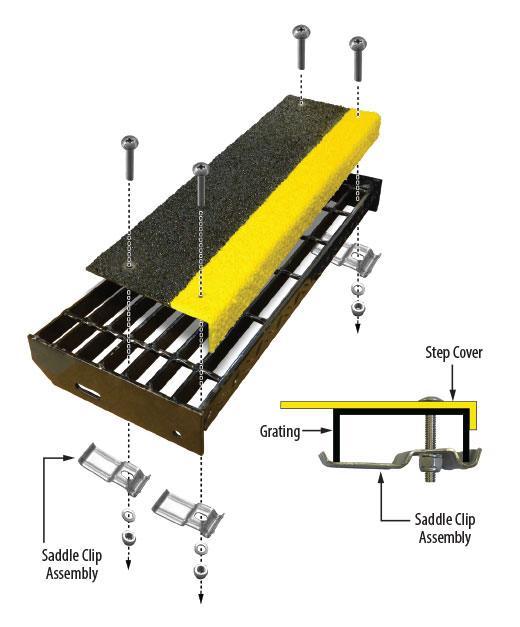 Install utilizing Universal Saddle Clip Assemblies with Slotted Truss Head Bolt, Nut and Lock Washer (All Stainless Steel)
The number of Saddle Clip Assemblies is directly influenced by the condition of the grating to be covered. New and good condition grating may not require as many Saddle Clip Assemblies. Good condition is considered flat/level and non-corroded. Contact Safeguard to discuss your application.
Step Cover Installation Over Diamond/Checker Plate
Install utilizing Self-Tapping or Self-Drilling (Tek) Screws or Rivets and Low Profile Head, Nuts and Bolts. (Depending on your particular application)
Self-Tapping and Self-Drilling (Tek) Screws
Rivets
Low Profile Head Nuts, Lock Washer and Bolts
Adhesive can be used in lieu of or in conjunction with mechanical fasteners.
Step Cover Installation Over Concrete
Install using screws and masonry fasteners.
Adhesive can be used in lieu of or in conjunction with mechanical fasteners.
Step Cover Installation Over Wood
Install using 1 1/2? standard type screws.
Adhesive can be used in lieu of or in conjunction with mechanical fasteners.
Safeguard recommends placing mechanical fasteners 1 in x 1 in each corner of your Anti-Slip Cover with spacing 10 in to 14 in between each fastener.
ATTENTION:
Reduce the speed of your pneumatic air tools to prevent thread galling and bolt snapping while installing saddle clips.
We recommend using a Torx screwdriver when installing to avoid head stripping.
The use of a thread lubricant is also recommended to reduce heat and assist in a smooth installation of this product.
Step Cover Installation Using Adhesive
Minimum adhesive usage shown. Depending on condition of substrate more can be applied, or troweled.
When using liquid adhesive, please refer to detailed installation and surface preparation instructions. Follow the pattern to the left for maximum adhesion when installing over diamond plate, concrete, and wood.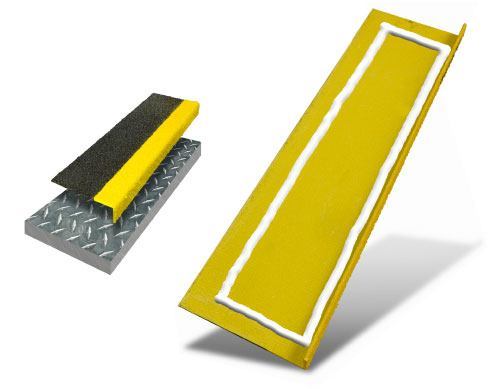 Red indicates pattern to follow when applying liquid adhesive.
Warning messages, text, and logo graphics can be embedded into Safeguard® Step Covers to last for the life of the product. We can even match your color.
Combined with a Photoluminescent "Glow-in-the-Dark" background, the message is visible after dark and during power outages to provide safe egress/ingress during emergency evacuations.