Hi-Traction® Anti-Slip
Step Covers
Safeguard your Productivity and Profitability
Prevent costly slips and falls, especially on the leading edge of the stair, where most slips occur. Even in adverse conditions, such as when wet, icy, or dirty, SAFEGUARD Hi-Traction® and HiGlo-Traction® Anti-Slip Step Covers provide excellent footing, far exceeding OSHA standards.
Combine the right base material, grit, size, and colors to cover your steps and stairs
Wrap the leading edge and cover the proper depth for your foot traffic to eliminate slip and trip hazards
Fabricated to your specifications using a durable, non-load-bearing base of FRP fiberglass, galvanized or stainless steel
Key Features
Our Super Coarse Xtreme™ Grit Step Covers provide traction even on oil rigs which can be wet, oily, and extremely hazardous. For added safety, make them glow-in-the-dark with HiGlo Traction.
Product Specifications
Base Materials
1/8 in Pultruded Fiberglass (FRP)
Lightweight, Impact Resistant, Cost-Effective
Galvanized Steel – 18 gauge (1.2 mm) G90
Corrosion Resistant
Stainless Steel – 18 gauge (1.2 mm) #316
Sanitary
Heavy Duty Aluminum, 60/61 T Marine Grade
Thick, Rigid, Durable
Direct Gritting
Send us your OEM parts or your engineered drawings for fabrication, then gritting

Cover Shape & Base Material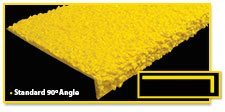 Standard 90° Angle
FRP, Galvanized Steel, Stainless Steel, Aluminum
Bull Nose
FRP, Galvanized Steel, Stainless Steel, Aluminum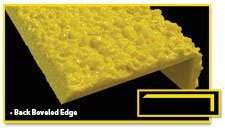 Back Beveled Edge
FRP, Aluminum (3/8 inch)
Raised Round Nosing
FRP Only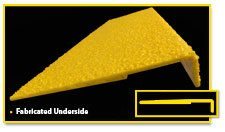 Custom Fabricated Underside
FRP, Galvanized Steel, Stainless Steel
Hi-Traction® and HiGlo-Traction® Step Covers are designed to wrap over the leading edge with a standard 1in vertical lip (C), thereby covering the radius where most slips occur.
It is not necessary to cover the entire step. When measuring the length of your step (A), leave some empty space on either side of the step cover to allow for seasonal expansion and contraction and for any irregularities that may exist from step to step.
Maximum Capabilities
Standard 90° FRP Covers
Up to 10′ length and 15 in deep
Standard 1in lip (1.5 in and 2 in available)
Bull Nose Covers
Up to 10′ length & 9 in deep
1in lip
Steel and Aluminum Covers
Call for maximum capabilities
Cover Steps to the Proper Depth
The depth of the Step Cover for your stairway depends on your foot traffic:
What type of footwear is worn in the area?
What substrate do you intend to cover?
What is the condition of the existing stairs?
How many steps are in the stairwell?
Six Grit Options
Super Coarse (Xtreme™)
Extra Coarse (Offshore)
Coarse (Industrial)
Fine (Commercial)
Extra Fine (Residential)
Super Fine (Barefoot)