SAFEGUARD® Cover Grit Size Options
At the heart of every SAFEGUARD® Cover is the unique layered resin surface with embedded grit that delivers the ultra-safe Hi-Traction characteristic. Every SAFEGUARD® Cover offers high anti-slip properties, but depending on the application, smaller or larger grit can be specified.
Hardness of Grit
Mohs Hardness Scale
Diamond
10.0
Fused Alumina
Used in Safeguard Products
9.4
Quartz/Silica Sand
Most Anti-Slip Products Including Tapes
6 - 7
We incorporate fused alumina into all of our anti-slip products – a hard, sharp edged aggregate that measures 9.4 on the Moh's Hardness Scale. Comparatively, most tapes and paints contain quartz or silica – in other words, sand. These rank only 6 to 7 on the Moh's scale, indicating a soft aggregate that will quickly wear away under foot traffic, leaving your surface more hazardous than ever.
Coefficient of Friction (COF)
Coefficient of friction is the measure of a product's ability to provide safe traction and thereby prevent slips-and-falls. Our fused alumina aggregate creates a superior coefficient of friction – nearly double OSHA, ADA, and APTA standards, not only when flat but also at an incline, and even when wet, oily, or dusty.
COF Testing
SAFEGUARD® products have been tested for coefficient of friction values using the Brungraber Mark II testing device as well as the English XL VIT test apparatus. These are considered the most reliable and the standard for measuring COF. Read more about testing here.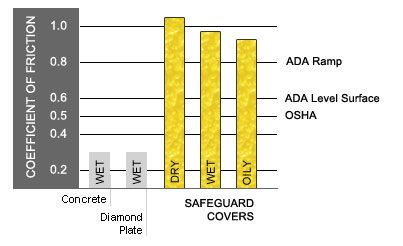 Six Standard Grades
Six grit sizes are available to address any application, from shower areas to offshore drilling platforms.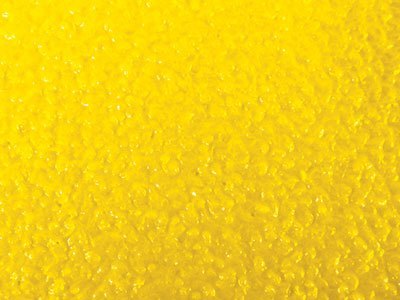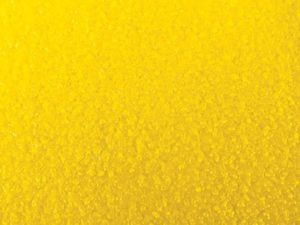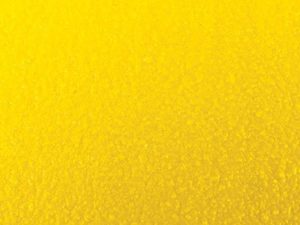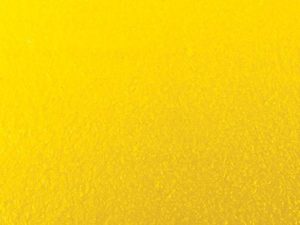 Average Size of Grit (Aggregate)
| Grade | Mesh | Inches | Microns | Millimeters |
| --- | --- | --- | --- | --- |
| Super Coarse (Xtreme) | 3/6 | 0.2 | 5000 | 5.08 |
| Extra Coarse (Offshore/Heavy Duty) | 10 | 0.085 | 2125 | 2.159 |
| Coarse (Industrial) | 20 | 0.033 | 850 | 0.838 |
| Fine (Commercial/Pedestrian) | 24 | 0.027 | 700 | 0.686 |
| Extra Fine (Residential) | 36 | 0.019 | 485 | 0.483 |
| Super Fine (Barefoot) | 54 | 0.012 | 305 | 0.305 |
Average Thickness of Finished Product
Product
Super Coarse
Extra Coarse
Coarse
Fine
Extra Fine
Super Fine
Stainless or Galvanized Steel
18 Gauge / 0.048 in / 1.2 mm
0.30 in
7.6 mm
0.18 in
4.6 mm
0.11 in
2.8 mm
0.10 in
2.5 mm
0.09 in
2.2 mm
0.08 in
2.0 mm
Pultruded FRP Composite
0.125 in +0.010 / -0.005
3.2 mm +0.3 mm / -0.1 mm
0.38 in
9.7 mm
0.26 in
6.6 mm
0.19 in
4.8 mm
0.18 in
4.6 mm
0.17 in
4.3 mm
0.16 in
4.1 mm
1 mm Molded Fiberglass
NA
0.12 in
3.15 mm
0.07 in
1.8 mm
0.07 in
1.7 mm
0.06 in
1.5 mm
0.05 in
1.3 mm
Vinyl (Flexible PVC)
0.024 in / 0.60 mm
NA
0.15 in
3.8 mm
0.08 in
2.1 mm
0.07 in
1.9 mm
0.06 in
1.6 mm
0.05 in
1.3 mm
Geomembrane
Roll-Traction®
NA
NA
0.101 in
2.6 mm
0.095 in
2.4 mm
0.087 in
2.2 mm
0.080 in
2.0 mm
Heavy Duty Aluminum
0.54 in
13.6 mm
0.42 in
10.6 mm
0.35 in
8.8 mm
0.34 in
8.5 mm
0.33 in
8.3 mm
0.32 in
8.0 mm