Powerful Solutions to Prevent Slips-and-Falls
Join growing family leading utility companies that have trusted Safeguard Hi-Traction® Anti-Slip Covers to keep their workers safe.
Safeguard Hi-Traction Anti-Slip Covers are used globally in power generation facilities including gas, nuclear, hydroelectric and wind.
Stop Scraping and Replacing Temporary Anti-Slip Solutions
If you're still using anti-slip tapes, you're wasting time and money replacing them two to three times a year. With Safeguard Anti-Slip Covers you'll get a more permanent solution, and save money in the long run.
What is the cost of doing nothing? 
Low cost of owner ship? For long lasting products.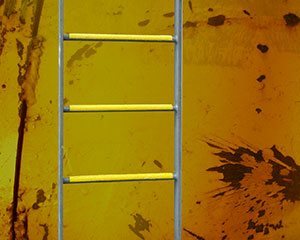 Ladder slip-and-fall accidents are all too common inpower generation facilities. Keep your workers safewith Safeguard Ladder Rung Covers.
Safeguard Ladder RungCovers are quick and easy to install.
The rungs and steps of fixed metal ladders manufactured after March 15, 1991, shall be corrugated, knurled, dimpled, coated with skid-resistant material, or otherwise treated to minimize slipping.
Prevent tripping over cords, pipes, and cables with Safeguard Anti-Slip Pipe & Cable Covers. Available in a variety of sizes and colors.
Safeguard Anti-Slip Step Covers have a vertical lip to cover the leading edge where most slips occur. All covers are available in a range of grit surfaces and colors including glow-in-the-dark. Contrasting two-tone color configurations create additional visibility.
Made of lightweight, durable composite fiberglass (FRP) or steel depending on the application. Company logos, safety and PPE messaging are also available.