Harsh Environments Demand Robust Anti-Slip Protection
That's why we have become the leading manufacturer of Hi-Traction® Anti-Slip Covers used in the Oil & Gas exploration and production industry.
Ordinary slip prevention methods fail under the extreme conditions present in the Petroleum Industry. We used this challenge as a proving ground for innovation that resulted in Super Coarse (Xtreme™) and Extra Coarse (Offshore) grades, anti-slip grit sizes that have become the industry standard for Oil & Gas.
Offshore
Workers are at serious risk offshore, far from hospitals and medical help. Companies must be proactive in the prevention of accidents, and we at Safeguard can help. Installation of our anti-slip products is an easy and effective way to reduce slip-and-fall accidents.
Onshore/Land Rigs
At Safeguard, we understand the tough working conditions oil and gas drillers encounter- the physical demands plus the precarious environmental elements. Oily, muddy, wet, or icy conditions add to the risk of slip-and-fall accidents. Our focus is on keeping people safe in these settings, and our Hi-Traction covers are made to meet the challenge.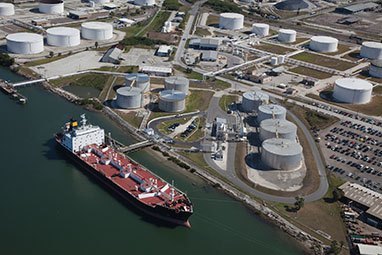 Refining & Processing
Oils, chemicals, and other compounds in the petrochemical and oil processing industry make environments very hazardous for workers. We have developed an extremely effective, permanent solution to the problem of accidental slips-and-falls: install Safeguard Anti-Slip Covers over grating, platforms, tiles, floors, walkways, and ramps.