Industrial Anti-Slip Mats
Mat-Traction™
Modular and Large Size Gritted Anti Slip Mats
For industrial or commercial use, our Mat-Traction anti slip mats are a portable solution to help prevent slips-and-falls. They also offer anti-fatigue properties, fluid resistance, and "pass through" design for particle and debris clearing benefits. Tool-free installation and reconfiguration.
Choose from two types of industrial anti-slip mats, each with a different non skid grit option:
Ergo-Cushion

Safety + comfort on assembly lines

Interlocking Tiles

Anti-slip mat with durability for heavy usage areas
Key Features
Product Specifications
Base Materials
Ergo-Cushion
Best for dry areas, slight overspray, or oil tracking.
Base Material
Ultra soft nitrile rubber composite sponge
Properties
15/16″ thick base
Tapered edges
High comfort
Anti-fatigue
Interlocking Tiles
Hard tiles best for heavy use and cart tracking. Soft tiles best for wet, overspray, and oily use with ergonomic comfort.
Base Material (Hard & Soft Tiles)
100% Silicone-Free PVC
Properties
7/8″ thick base
Easy to connect 18" tiles
Open holes for drainage
Emphasis on comfort (Soft Tiles)
Inches
Meters
Ergo-Cushion
24″ x 36″
36″ x 60″
0.6096 m x 0.9144 m
0.9144 m x 1.524 m
Interlocking Tiles
18″ modular tiles for configuration
0.4572 m modular tiles for configuration
Choose grit size to suit the anti-slip properties needed for your application.
Coarse (Industrial)
Fine (Commercial)
Extra Fine (Residential)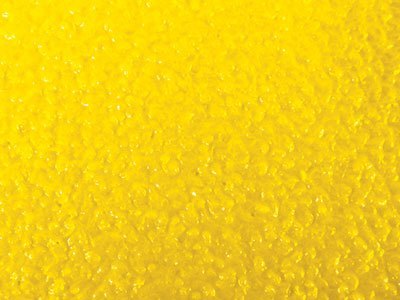 Standard Colors for Anti-Slip Floor Mats
Standard and Safety Colors
Use for a variety of industrial and safety applications. Color and markings can be used to attract attention, designate caution, and communicate safety information.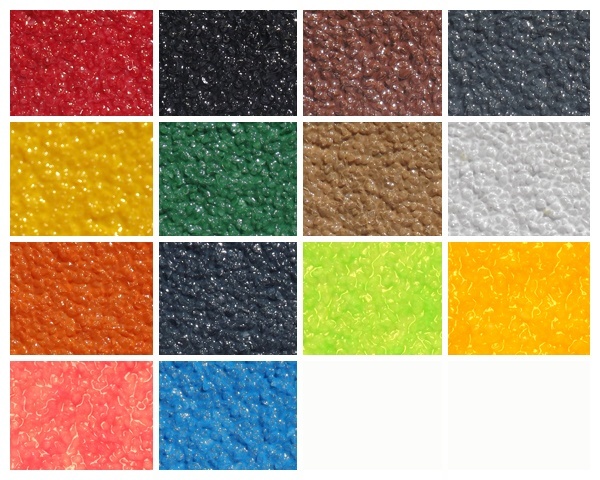 Two-Tone Color Configurations Add Visibility
Call attention to hazardous edge areas with a contrasting color.
The colors on this web page serve only as a visual guide for initial selection of color. Actual finished product color may vary slightly from the version shown on your monitor based on grit size (coarseness) as well as the base material of construction. To see the actual color, please request a product sample.