Anti-Slip Mat-Traction™ Mats
Our anti-slip Mat-Traction™ mats are a portable solution to help prevent slips and falls in industrial and commercial settings. They also offer anti-fatigue properties, fluid resistance, and pass-through design for particle and debris-clearing benefits. In addition, they feature tool-free installation and reconfiguration.
Choose from two types, each with a different non-skid option:
Ergo-cushion mats for the safety and comfort of assembly lines
Interlocking-tile anti-slip mats with durability for heavy usage areas
Our ergo-cushion diamond-plate mats are designed for ergonomic comfort in dry areas with slight overspray or oil tracking. Combine superior slip prevention with the comfort necessary for long periods on your feet.
Our interlocking tiles are a quick-assembly flooring system and a seamless installation for any size area. Use durable hard tiles for heavy use and cart traffic areas or soft tiles for increased ergonomics.
Mat-Traction® The Heavyweight™
The Heavyweight can be configured to fit around non-movable elements. Large areas can be covered with multiple interlocking pieces and custom sizes and shapes are available.
General
THIS CONTENT IS DYNAMICALLY ADDED WITH JAVASCRIPT.
If you have Javascript turned off, this page won't load as intended.
Construction
Sizes
Grades
Colors
Safety Messages & Logos
Ordering
Installation
Commercial (3100)
Industrial (3200)
Foil Backed (3700)
Glow-In-The-Dark (3400)
Colors (3300)
Safeguard anti-slip Mat-Traction™ mats are available in two different base materials.
Ergo-Cushion Mats
Properties:
15/16″ thick base
Tapered edges
High comfort
Anti-fatigue
Interlocking Tiles
Properties:
⅞" thick base
Easy-to-connect 18″ tiles
Open holes for drainage
Emphasis on comfort (soft tiles)
Cover Shape & Base Material
Ergo-Cushion Mats
Ultra-soft nitrile rubber composite sponge. Best for dry areas, slight overspray, or oil tracking.
Interlocking Tiles
100% silicone-free PVC. Hard tiles are best for heavy use and cart tracking. Soft tiles are best for wet, overspray, and oily use with ergonomic comfort.
Available Sizes
Ergo-Cushion
Inches:
24″ x 36″
36″ x 60″
Meters:
0.6096 m x 0.9144 m
0.9144 m x 1.524 m
Interlocking Tiles
Inches:
18″ modular tiles for configuration
Meters:
0.4572 m modular tiles for configuration
Grit Options
Choose from the following grit sizes to suit the anti-slip properties needed for your application:
Coarse (industrial)
Fine (commercial)
Extra-fine (residential)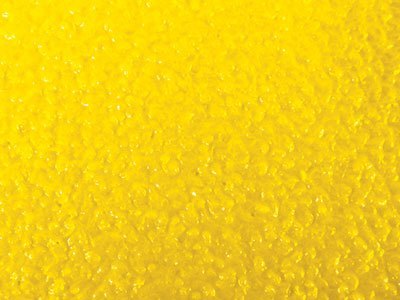 Coarse (industrial) grade
Fine (commercial) grade
Extra-fine (residential) grade
Safeguard Mat-Traction™ anti-slip mats are available in a variety of standard and safety colors, as well as two-tone color configurations.
Download Product Brochure