Hi-Traction® Anti-Slip
Ladder Rung Covers
Deliver Firm-Footed Traction From Top to Bottom
Significantly enhance safety in one of the most dangerous spaces: the slick, small foot surface area present on ladder rungs. Safeguard's two styles of anti-slip ladder rung covers fit easily over the rung, demonstrating complete, long-lasting performance in the world's toughest indoor and outdoor environments.
Channel shaped and half-round styles
FRP (fiberglass) and galvanized or stainless steel base
Adhesive, mechanical, or welded installation
Retrofit in the field, or specify as an OEM enhancement
Key Features
Power generation facilities are notorious for slip-and-fall accidents, particularly on ladders. We heard the benefits first-hand from one of our customers about how temporary tapes needed to be replaced two or three times in a five year period. Now they use our products and save a lot of rework time.
"Self-adhesive anti slip tapes used on ladder rungs have a limited life expectancy. On the average, anti-slip tapes have to be replaced two to three times in a five year time period.
The biggest advantage of utilizing Safeguard® Hi-Traction® Ladder Rung Covers is that they are permanent. Once installed, no one will have to scrape and replace worn off material. They can even be repainted (lightcoat) to make them look like new again. This is the best solution for all conditions, interior and exterior.
Thanks to Safeguard, they're saving us a lot of rework."
-From a VP of Safety at a major U.S. Power Plant
Product Specifications
Base Materials
Choose from one of the following base materials of construction, or provide your own material for direct gritting.
Pultruded Fiberglass (FRP)
Lightweight, Impact Resistant, Cost-Effective
Galvanized Steel 18 gauge (1.2 mm) G90
Corrosion Resistant
Stainless Steel 18 gauge (1.2 mm) #316
Sanitary
Direct Grit
Send us your OEM parts or your engineered drawings for fabrication, then gritting
Base Material Shapes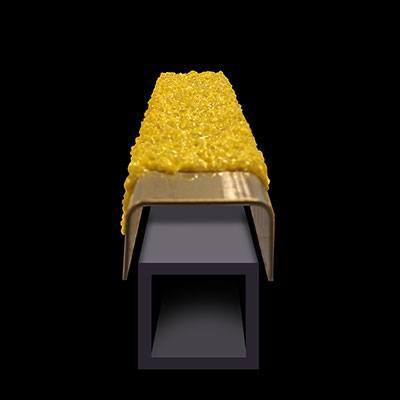 Important: The (A) dimension is generally up to 2" shorter than the length of the rung. If complete rung coverage is desired, make sure that no obstruction (for example: a weld bead) will interfere with the seating of the rung cover.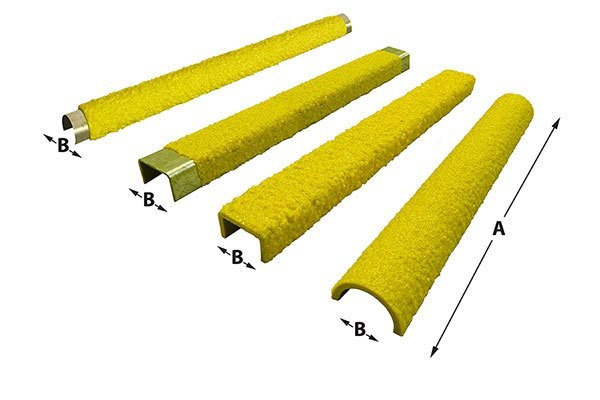 Max Sizes and Base Material
Base Material
Lengths (A)
Diameters (B)
Pultruded FRP Round and Channel
Up to 48 in.
Up to 1,200 mm
3/4 up to 2 in.
19 up to 50 mm
Metal Channel
Up to 48 in.
Up to 1,200 mm
3/4 up to 2 in.
19 up to 50 mm
Metal Round
Up to 48 in.
Up to 1,200 mm
3/4 in., 7/8 in., and 1 in.
20 mm and 25 mm
We offer five different grades of grit, depending on your application. Fine grade (Commercial) is the standard choice for most ladder applications.
Extra Coarse (Offshore)
Coarse (Industrial)
Fine (Commercial)
Extra Fine (Residential)
Super Fine (Barefoot)
SAFEGUARD Color Options
Standard and Safety Colors
Use for a variety of industrial and safety applications. Color and markings can be used to attract attention, designate caution, and communicate safety information.