Hi-Traction® Anti-Slip
Pipe & Cable Covers
Create a Safe Pedestrian Walkway over Pipes and Cables
Avoid slips, trips, and falls caused by exposed wires, cables, pipes, and conduit. Use our rugged Hi-Traction® Anti-Slip Pipe & Cable Covers to provide a nonslip safety bridge for foot traffic over these areas.
Durable anti-slip surface
Lightweight and cost-effective
Impact and corrosion resistant
Key Features
Organizers of fairs, festivals, and conferences often deal with eliminating trip-and-fall hazards. Our pipe and cable covers deliver! They are made from a strong polymer material that can withstand up to 1,000 pounds.
Product Specifications
Base Materials
1/8 in Pultruded Fiberglass (FRP)Lightweight, Impact Resistant, Cost-Effective
Heavy Duty Aluminum, 60/61 T Marine GradeThick, Rigid, Durable
Pipe & Cable Covers are sized in 20 inch widths
Choose from standard 24 inch, 36 inch, 48 inch,
and 60 inch lengths
Custom lengths to maximum 10′
The channel under the cover spans 3 inches high and wide
Heavy Duty Aluminum options are also available
Six Grit Options
Super Coarse (Xtreme™)- For most severe conditions, messaging not available
Extra Coarse (Offshore)
Coarse (Industrial)
Fine (Commercial)
Extra Fine (Residential)
Super Fine (Barefoot)
SAFEGUARD Color Options
Standard and Safety Colors
Use for a variety of industrial and safety applications. Color and markings can be used to attract attention, designate caution, and communicate safety information.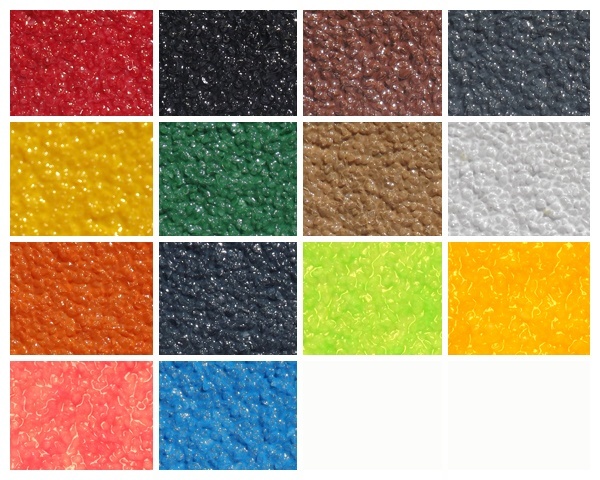 Premium Colors
Our Premium color palette provides architects, facilities managers, and home owners with additional contemporary color choices for safety applications. These designer colors fit the aesthetic requirements for anti-slip protection at schools, commercial offices, institutional buildings, hotels and personal residences.
HiGlo-Traction®
In darkness or a power outage, HiGlo-Traction Photoluminescent colors highlight the way.
Two-Tone Color Configurations Add Visibility
A contrasting color on the perimeter of a Pipe & Cable Cover designates a change in surface texture or signifies a safe walking zone. The contrast provides good definition and clear visibility for added awareness.