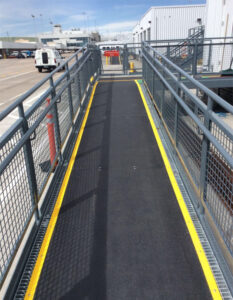 Just as every workplace is unique, so are the safety concerns that arise in each facility. That's why, when it comes to slip-and-fall prevention, there is no one-size-fits-all approach.
Safeguard is a pioneer in offering the right customized solutions for anti-slip products that keep people safe while visually complementing your surface. With more than 30 years of experience serving 40-plus vertical markets, we are the industry experts, offering customized anti-slip solutions and installation services all over the world.
Not only are Safeguard's anti-slip products built to last longer in the toughest environments on Earth, but they're also supported by superb customer service, backed by warranties, and can include expert installation. The result is the best overall value on the market for reliable products designed to meet the specific slip-and-fall prevention needs of your business.
Anti-Slip Products Designed for Your Business
Safeguard's prefabricated retrofit covers are designed for quick installation over slippery surfaces, resulting in the perfect fit and eliminating downtime due to slip-and-fall incidents.
We provide custom anti-slip solutions by offering the following products, some available in up to six different grades of grit to meet the needs of any business.
Safeguard's anti-slip covers are made to size, with predrilled holes exactly where needed and the right fasteners for easy installation. They're also available in a variety of colors to add an extra degree of safety while enhancing the appearance of your job site.
Full Customer Service Support
Because we understand that one size does not fit all — and we want to ensure your team is safe at all times — we take a highly consultative approach to ensure you get the right product and fit for every situation.
At Safeguard, there's no stock or standard product, so you aren't forced to buy an item that isn't the perfect size. Our team of experts will consult with you to recommend the best product for your needs. We'll also send you a sample so you can see the product firsthand.
Our team will walk you through the following considerations:
Choosing the right product based on application
Measuring the coverage area
Selecting the base material for your product
Determining the ideal grit size
Choosing your preferred color(s)
Installation options
Placing your order
Expert Installation Is Available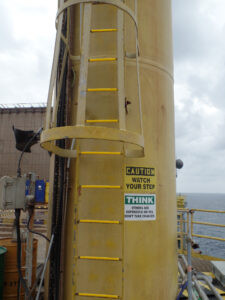 Paired with our global distribution network, our in-house team can install our anti-slip products nearly anywhere in the world. Recent installations range from an American Red Cross facility in Cleveland, Ohio, to an offshore installation that was completed while the ship was en route from Singapore to the Gulf of Mexico to minimize downtime in the shipyard.
Clients choose a Safeguard installation team for many reasons, including their own staff shortages, the ease of relying on our expertise, and limiting the liability to one company for materials and installation.
When planning an installation, our team gathers all the necessary information to make the process as seamless as possible, including:
The activity performed in the installation area
Details about the work environment
If training, permits, or certifications are required for installation
If a spotter or escort is required to work onsite
If additional personal protective equipment is required while onsite
If surface prep will be needed
The hours of the day the installer can work
If it's possible to close off the work area
The type of power supply access that is available
Where installed equipment can be staged and stored
While installation is a final step in Safeguard's turnkey solution, because of the added expense and logistics involved, we also recommend the service for larger orders. In general, installation is cost effective for product orders of $10,000 or more, an amount equal to roughly 500 ladder rungs or 250 step covers.
Ready to discuss your anti-slip product needs? Request a consultation today!