When the lifeguard blows the whistle to kick off the fun at the Arkadelphia Aquatic Park in Arkadelphia, Arkansas, the Director of Parks and Recreation can relax and enjoy the hubbub, knowing that the kids are safe from injury as they scramble up to the water slide.
In early March of 2020, much was uncertain about the viability of community recreation areas in light of the COVID-19 pandemic. One thing was certain, though, if the park was to open, the steps going up to the water slide would need to be addressed.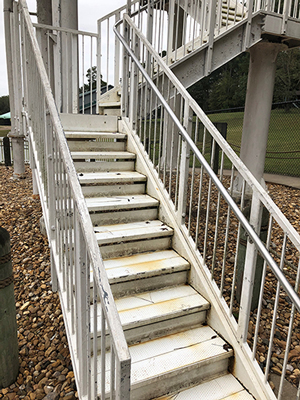 The existing plastic steps and walkways were cracked and slippery. The material had become brittle and split, exposing sharp edges. And although the surface had a 3-D pattern, the coefficient of friction was low, making the stairs a slip-and-fall hazard for the wet, barefoot customers.
There wasn't time to have new stairs made and installed before opening day, so the Director sought an alternative.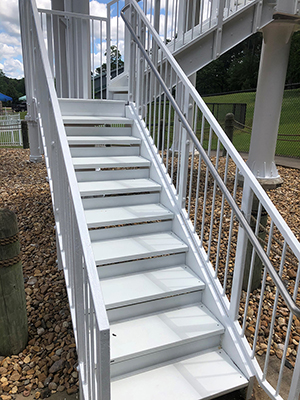 He found the anti-slip solutions for parks on the Safeguard Technology website and wondered if the steps and landings could be sufficiently covered to restore them to a safe condition.
He discovered that Safeguard® Hi-Traction® Anti-Slip Covers could be custom-made to specification, with a barefoot-grade gritted surface, all in the white color to match his water slide, at no extra charge.
The standard 2-3 week lead time would allow plenty of time for installation before opening day. The step covers, landing covers, and a walkway cover were retrofitted onto the existing areas and secured with fasteners and Sikaflex adhesive around the edges to deter corrosion.
As with many government projects, the city's approval process was stringent, but the Safeguard solution passed without issue.
The Arkansas Recreation and Parks Association named Arkadelphia's Aquatic Park as one of the top recreation facilities in the state. Now, thanks to Safeguard, it is also one of the safest!
If you need to keep people safe from slip-and-fall injuries, contact us. We'll walk you safely through the process!