Protect Pedestrians and Commuters from Slips-And-Falls
Public transportation includes more than just the vehicles in your fleet. Stations and walkways must also get pedestrians to their destination safely.
Each day, thousands of people depend on public transit as a safe and reliable mode of transportation. Exposed wood, concrete, and marble walkways and stairs can be treacherous, especially when wet or icy.
Entry & Exit
Our walkway, step, and landing covers keep pedestrians, commuters, and employees safe as they enter stations, board trains, and leave platforms.
Where You'll Find Safeguard Anti-Slip Products
Rail passenger stations & terminals
Loading areas
Subways
Light rail
Trolleys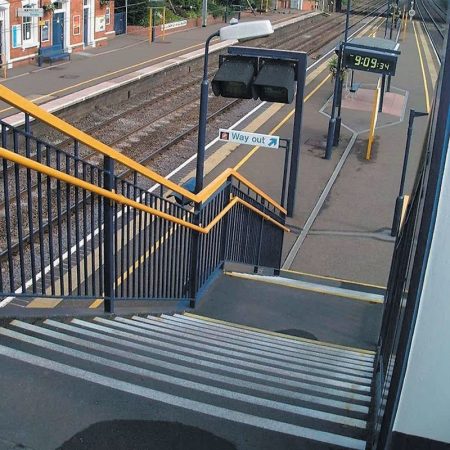 Step Covers
Worn, wet, or icy stairs make commuting dangerous for your passengers and employees. Safeguard Anti-Slip step covers come in six grit options and a variety of colors (including glow-in-the-dark and custom) to make sure they get to their destination safely.
Landing Covers
Give pedestrians seamless safety with landing covers designed to blend the coverage of a walkway area with the functionality of a step cover.
Walkway and Ramp Covers
Outdoor walkways made of concrete, wood, or even marble can be dangerous for pedestrians when wet or icy. Use Safeguard anti-slip walkway and ramp covers to provide safe passage.