We Focus on Safety So You Can Focus on Drilling
Drilling operations pose a variety of risks to operating crews. Land rigs, especially, are known for their fast pace and tough conditions. Reduce risks and protect your workers with trusted anti-slip protection from Safeguard.
Since 1992, we've been manufacturing Hi-Traction Anti-Slip Covers for steps, walkways, and ladder rungs to increase worker safety on onshore and land rigs throughout the world.
Superior Foot Traction
Safeguard Covers provide excellent traction, even if the surface is oily, wet, greasy, dusty, or dirty. A hard, sharp grit is bonded to the base substrate to deliver an excellent Hi-Traction surface that greatly exceeds the Coefficient of Friction guidelines established by OSHA and the ADA.
A common step cover used on land rigs has FRP base material with Xtreme™ grit and a back beveled edge to smooth out the profile.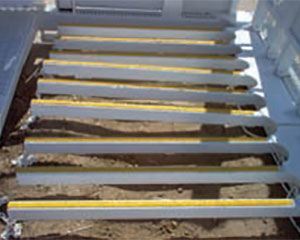 Hazardous areas, like land rig monkey board fingers, need complete anti-slip treatment: safety colors, two tone configurations, glow-in-the-dark, and critical safety messaging.
A quick fix for dangerous ladders. Provide safety underfoot from the top to the bottom of your land drilling rig. Easy to install.