Confidence in Critical Situations
Be prepared when you need it most – quickly and easily install Safeguard's anti-slip protection on your aerial fire truck, emergency vehicle, or airport response vehicles.
Safeguard Anti-Slip Ladder Rung, Walkway, and Ramp covers provide long-lasting traction and exceed required safety standards.
Trusted by the world's largest aerial fire truck manufacturers
Why apply traditional rubber to your ladder rungs? It slows down the manufacturing process and doesn't have anti-slip protection. Diamond plate looks great in a parade, but it does not prevent slips and falls. Use Safeguard Anti-Slip Covers on ladders, turntables, and platforms.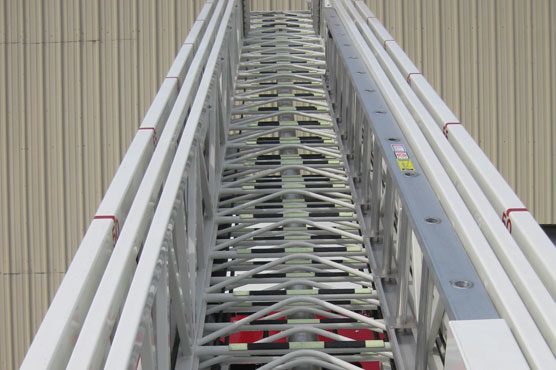 Ladder Rung Covers
From 3/4? to 2? diameter and practically any length, Safeguard Anti-Slip Ladder Rung Covers are easily installed in minutes with industrial adhesive. Glow-in-the-dark (photoluminescent) colors are an attractive, added safety feature for your aerial ladders.
Walkway and Ramp Covers
Configure matching walkway and ramp covers for your platforms and turntables. Specify a message or logo for a customized finish to a safe working surface.